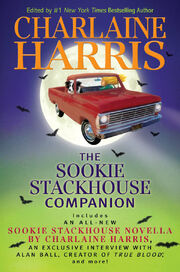 The Sookie Stackhouse Companion is a novel depicting the timeline of "The Southern Vampire Mysteries".
Charlaine Harris has topped the bestseller charts and become a nationwide phenomenon, thanks to the unconventional, and otherworldly, life of Sookie Stackhouse. Now take a closer look at Sookie and at her family, friends, enemies, adventures, and—of course—the lovers who set her world on fire....
Visit Bon Temps, the small Louisiana town that Sookie calls home, with a detailed map created by Charlaine herself, and learn the characteristics of the supernaturals who live there: vampires, two-natured, and fae. Examine all the branches of Sookie's family tree. And eavesdrop on the private conversations between rival vampires Eric and Bill.
Also, enjoy the compelling novella "Small-Town Wedding," in which Sookie accompanies her shapeshifting boss, Sam, to his brother's wedding in Texas, where happily-ever-after seems very far away....
Exclusive interviews with True Blood creator Alan Ball and author Charlaine Harris—compiled from fan questions—will satisfy your craving for all things Sookie, as will trivia questions, recipes (including Caroline Bellefleur's famous chocolate cake!), and a concordance to the Sookie Stackhouse novels.
Ad blocker interference detected!
Wikia is a free-to-use site that makes money from advertising. We have a modified experience for viewers using ad blockers

Wikia is not accessible if you've made further modifications. Remove the custom ad blocker rule(s) and the page will load as expected.