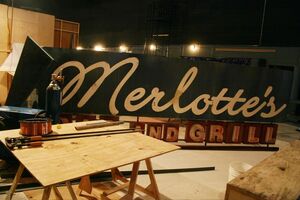 Merlotte's Bar and Grill, generally referred to simply as Merlotte's, is a popular bar and grill located in Bon Temps, Louisiana, and owned by the shapeshifter Sam Merlotte.
This bar is where Sookie Stackhouse works and spends most of her time. Many employees blow in and out of Merlotte's including Arlene Fowler, Holly Cleary, Danielle Gray, Lafayette Reynolds, Terry Bellefleur, Sweetie Des Arts, Charles Twinning, Tanya Grissom, and Charlsie Tooten.
Merlotte's is known as a "family bar".
Ad blocker interference detected!
Wikia is a free-to-use site that makes money from advertising. We have a modified experience for viewers using ad blockers

Wikia is not accessible if you've made further modifications. Remove the custom ad blocker rule(s) and the page will load as expected.